Flying House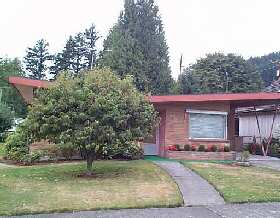 We bought this funny little house in March of 2000. It's located in downtown Issaquah just a half-dozen blocks from where we've been living. If you need the address, send me some email.

Some friends have been calling it "the flying house" since it went on the market in September of 1999. You can't really tell from the picture (shamelessly stolen from the MLS), but the roof is v-shaped with the point of the v down in the middle. Contrary to the picture the roof goes up the same amount on either side. (It's not banking to the right ;-) (Actually, looking at it today I noticed that the right wing is actually longer than the left so the two sides are at different pitches after all. Not sure what that does to it's aerodynamics, maybe we should change it to "flying in circles house")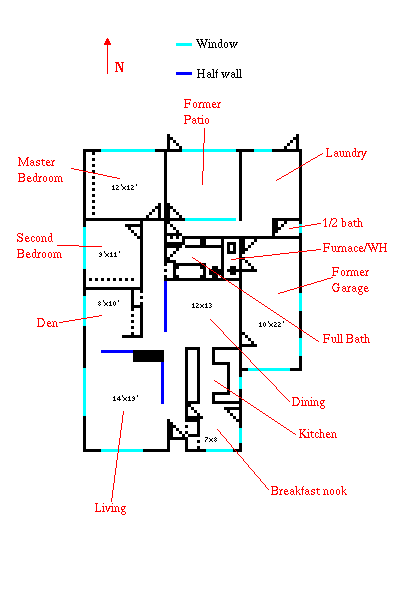 The floorplan is kinda to scale. The room sizes are accurate to a foot or two ;-), and I only measured the rooms that show sizes so everything else is a WAG. Dotted lines are closets. My doors are kinda dippy looking, but I'm a UNIX geek, not a draftsman. Overall square-footage is around 2040.

The two north-south half-walls have cabinets built in. There's cabinets on both north-south walls of the laundry room. Lots of storage in this place.

There's a carport in the gap in the SE corner. There's a cement patio all along the north edge of the house (probably 10 feet wide) with a roof over it for the part by the master bedroom. The back yard is beyond that with the garage beyond (which the inspector said "you're getting that free" meaning that no one would shed a tear should it suddenly be flattened by a falling meteorite). There's a walkway along the East edge of the house (and property).

Our kitties are very excited to be finally living in a house with Southern exposure.
---
jeffy's House Page
up to jeffy's Homepage