Coffee Table: Design
I took a woodworking class through BCC a few years ago. In it I got most of the way through building a stepstool based on some plans from Woodsmith magazine. I learned a lot in the class, but the two biggest things were:
I don't like power tools. Not one little bit.
I don't like working from other people's plans.
I'd been thinking about building a coffee table. The last thing I built was a footstool in a traditional style. For this project I wanted something a little more minimalist and modern. I did some design in my head and tried and discarded some ideas on paper before settling on a design whose entire documentation is in this picture: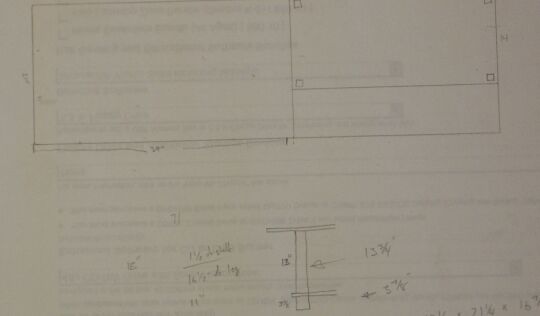 Probably doesn't make sense to anyone but me. It's a table of a standard coffee table height (17-3/4 inches) with a smaller shelf below and legs which extend below the shelf and between the shelf and top. The joinery is tenons set in mortises cut directly into the table top and shelf. It's about as simple a table as it's possible to make. No aprons, no stretchers, no drawers.
Since I want to finish the project in finite time, my design uses standard dimensioned hardwood lumber that I was able to purchase at my local big box home center. I hope to move more toward using rough cut lumber in the future, but for this project, I'm going basic.
The first thing I did was cut the boards for the top and shelf to rough length. The top will be three boards edge-joined together, and the shelf two. I cut the pieces for the legs to exact length. I have sharp cross cut saws so all that length cutting was pretty easy.
The next step is to join the boards together for the top and shelf. In order to do that I need to smooth and straighten the edges of the boards so that the joint will be as clean as possible. The tool for this job is a jointer plane. I have one of those, but I've never used it before so it needs some tuning and sharpening. I looked at the other planes and chisels I need for the rest of the project. They all needed to be sharpened, so I spent some time sharpening tools.
Posted by jeffy at August 17, 2004 02:02 AM