Vancouver, BC
We took a short vacation to Vancouver the week before last. We took the Amtrak Cascades from Seattle. It left at 7:30 in the morning which is pretty brutal for us, but the views along the water made it worth the pain.
One of the reasons we went to Vancouver is that we could get there without using a car (this was even back when we still had a car ;-), and Vancouver is dense enough that we could do lots of things without needing a car when we got there. In the end we didn't use any cars or buses on the trip (except for Rachel shuttling us to and from the station in Seattle). We walked just about everywhere and used their Skytrain light rail system to get us from the Amtrak station to within walking distance of our hotel.
We've vacationed in two northwest cities with light rail now (Portland was the first), and every time it makes us wonder why people resist it so much in Seattle. It's a wonderful way to get around. The trains come by every few minutes since they don't have to fight with cars for right of way. That frequency makes them immeasurably better than buses where if you miss your bus you're in for a half-hour wait or even longer especially out here in the suburbs. If you miss your train, you wait five minutes and get on the next one.
Plus, in Vancouver, light rail resulted in this beautiful bridge we saw as we came into the city on the train.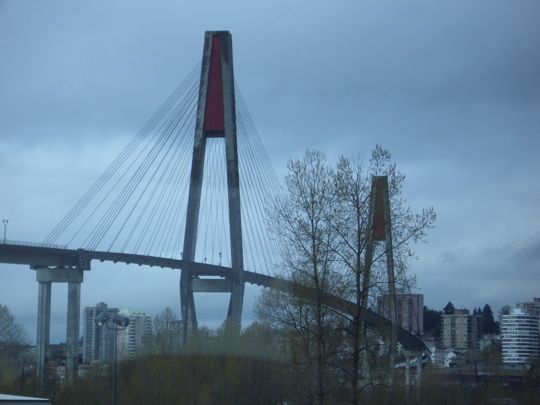 We stayed at the Buchan Hotel which is in the West End neighborhood only a few blocks from Stanley Park and 8 or 10 blocks from downtown.
I was excited to stay in the West End since I keep hearing about it as a model of high-density living in the northwest (mostly from Northwest Environment Watch). I've never been anywhere with as many high-rise apartment buildings. All these people living in close proximity has all kinds of good side effects. It makes for a thriving commercial district with uncountable good restaurants, and shops. It makes transit viable so there are numerous bus routes that run frequently making it easy to get places without a car. The transit availability and business proximity make it possible to not even own a car so you need less area devoted to parking and roads, and the whole area gets quieter because there are less engines and tires moving through. It seems non-intuitive to anyone raised in the west that more people can mean fewer cars, but it's true.
Since we were so close to Stanley Park we spent one whole day there. We started off at the Vancouver Aquarium. We happened to be there during spring break so there were some lines to get in, but it was worth the wait. The most unique draw of this aquarium is their Beluga Whales (White arctic whales. The link is to the aquarium's real-time beluga-cam.), but their less flashy exhibits are all top-notch as well.
It was a nice sunny day when we were there (though windy and cold), and these two otters were just basking in the sun. The one on the right is holding on to the other's back foot to keep them rafted together and was in charge of thrashing his tail about to steer them back into the sun when they drifted into the shade.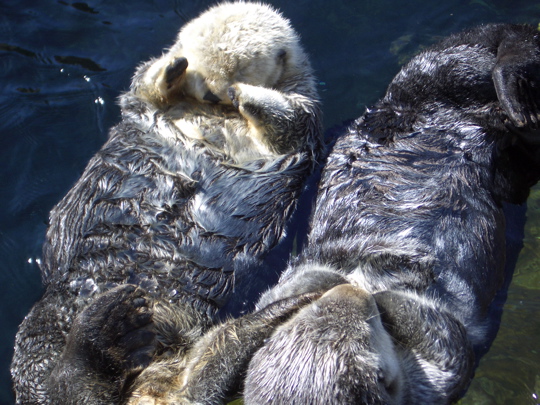 Another of the attractions of Stanley Park is their collection of First Nations totem poles. Most of them are fairly modern reproductions, but they're a fascinating art form and these are nice examples.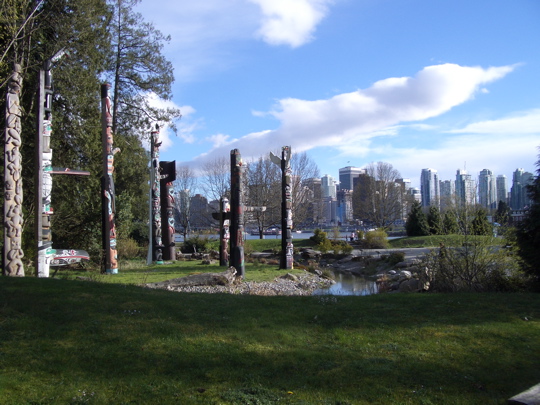 Another day we went to the Vancouver Art Gallery. We started off with their current exhibit Real Pictures: Photographs from the collection of Claudia Beck and Andrew Gruft (running through May 29), which has photos spanning the history of photography, over 300 pictures in all. I was all ready to buy the catalog until Becky pointed out the $85 cover price and sticker shock allowed me to escape the building without the big heavy book I would have had to carry home. We also saw their collection Emily Carr: Art, Place, Culture (ongoing) which highlights Carr's later work painting northwest forests and native culture.
On our last day in the city we bought day passes for the light rail and rode around a bit to see some more of the area. Our only major stop was at the Vancouver Public Library Central Branch, which opened in 1995. It's a really cool building. The library itself occupies a rectangle set within an ellipse forming the outer part of the building. All the seating and study areas are in the curvy outer portions of the ellipse with open air galleries running the full seven floors of the building. They have a spiffy self-guided architectural tour of the building (pdf) that we followed. We didn't use the library as patrons would, but based on our wandering around it seemed like a really wonderful library building.
The building complex includes a multi-story office building at one end of the ellipse which houses some government offices. One of the long sections of the ellipse has small shops and food vendors. I was enjoying a hot chocolate from one of those vendors when I took this picture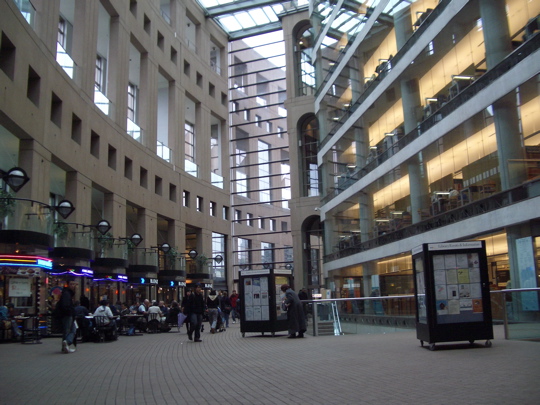 The main entrance to the library is just to the right of this shot. We were happy to have a dry place to sit and enjoy a warm drink on this only rainy day of our trip.
We got back to the Amtrak station with plenty of time to catch our train home. Becky bought a book in the station shop which we realized as we were filling out the customs forms was the only thing besides postcards and food that we bought on the whole trip. The immigration check was handled right in the station in Vancouver before we got on the train. For some reason they X-rayed our bags. There was no baggage screen at all leaving Seattle. Then when the train crossed the border at Blaine, WA, the customs check was handled by agents from our Department of Homeland Security who worked their way through the train randomly questioning our trainmates. They barely glanced at our paperwork, just took it and moved on. Maybe it's just the name of the department that made them seem so odious. No matter how polite you are, the presence of a gun on your belt makes you kind of menacing.
We had a great time on our trip and will probably go again. It's a super-easy vacation from Seattle. I really recommend the car-free vacation. It's so much easier to negotiate a new town when you don't have to guide your own vehicle and find a place to put it and pay to park it and worry about it getting broken into. On foot you have the luxury of taking your time and moving through the city at a pace that lets you notice the details and feel the pulse of its life.
Posted by jeffy at April 10, 2005 03:33 PM